Hello TMF Family,
Well, great things are happening within our TMF family! Several months have passed since our TMF Reunion, and we miss everyone so much! Many of you including our Reunion Executive board have spent much of this time traveling, hence the delay in getting this information out to you! We hope this email finds each of you well, and ready for the Holidays that seem to be fast approaching.
As you may recall, we were able to receive generous donations for the TMF reunion, allowing us to lower our registration fees and bless others that had served. As the Executive board closed our finances for the reunion, we did have a small positive balance in the account. After much discussion and prayer, with several important ministries needing donations, we decided unanimously to donate $4000.00 to the Dani Bible Reprint Project. Our theme for the Reunion this year, as you remember, was:
"From One to Another"

"I will declare Your power to the next generation, Your works from one generation to another." Ps 71,145
We felt very strongly that this project well represented our theme, and our intent going forward. We are so excited and feel privileged to be able to give even a small amount to this great endeavor and be a part of putting Bibles into the hands of this "hungry for God", next generation. Pray with us that this small "five loaves and two fish" amount will feed the many with His blessing!

Matt.14:17-21, "And they said unto Him, we have here but five loaves and two fishes. And He commanded the multitude to sit down on the grass, and took the five loaves, and the two fishes, and looking up to heaven, He blessed, and broke, and gave the loaves to His disciples, and the disciples to the multitude. And they did all eat, and were filled: and they took up of the fragments that remained twelve baskets full. And they that had eaten were about five thousand men, beside the women and children."

God so graciously raised up donors for our Reunion, at a time when we thought we would never be able to put the reunion together because of the cost involved. We worked hard, asked for God's blessing with the little we had and He was so faithful to take the little and multiply! We hope and pray that we all can continue to pray and believe in the miracles of the Lord, be faithful with little, ask for His blessings, and pray that the outcome will be more than what we could have ever imagined!

I would urge you, if the Lord leads, to give personally to this project as well. Below you will find all the information.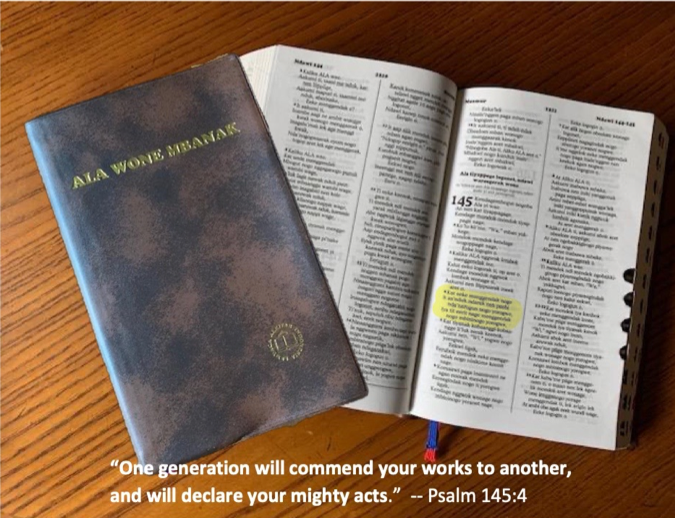 Dani Bible Reprint Project:
"Pleading for a reprint of the Dani Bible, representatives sent from the GIDI Church in Papua told us: "The young people are so hungry to study the Scriptures for themselves they are taking the Bibles their elders purchased years ago, and sharing them around among their friends. Our elders are frustrated because they are no longer able to freely access their own Bibles. We've looked in all the storage areas for copies for our young people, only to find we have no remaining supply available. Please help us!"
Contact with Lembaga Alkitab in Jakarta provided us with a cost of $450,000 to reprint and ship 30,000 copies of the Bible for distribution among the Dani. We now have an account opened in Pioneers to help raise these funds. Some of you will remember this translation was done by Myron Bromley, Gordon Larson, and Dave Scovill along with their Dani translator teams, and is able to be used by all the Dani. Please pray with us for His provision for this reprint, and that the hearts of the Dani would remain hungry for His Word! What an amazing problem to have as we look to the next generation!
If anyone would like to give additional donations toward this reprint, please mail a check to Pioneers; 10123 William Carey Drive; Orlando, FL 32832 noting it is for the
Dani Bible Reprint Project – Account # 151186,
or give online at
https://give.pioneers.org/p-75-give-to-a-missionary-or-project.aspx
We are also hopeful we can open a project account with Pioneers Australia for those of you who would like to contribute from within Australia. Any further questions may be directed to me at
dawnfain6@gmail.com
."
Also, I would like to add that there were other ministries that were represented at the reunion that would welcome financial donations. I will post these on the website so you will have all the information. Don't forget our three so very sweet Moni students that we all fell in love with at the reunion. Their information is also on the website. I'm sure they would love a financial gift, invite, or letter especially during the Holiday season.
Our website is
TMFConnected.com
.
Thanks for your attendance at the reunion, you are all a part of this donation.
With Love and Gratitude,
The Reunion Executive Board
Website address:
https://tmfconnected.com
______________________________________________________________

Please add any and all family and friends from TMF who have passed away, to the Memorial page.

There are also some people that are listed and are on the Memorial page but have no obituary listed, if you have access to this information please add this to the page.
**All of this can be done on the website by anyone, it doesn't have to go through the website admin, just click on add . If you run into a mistake or problem please let us know.